Hypnosis and Hypnotherapy in Michigan (Farmington Hills, Birmingham, Novi, and West Bloomfield, MI)
Weight Loss Hypnosis is Excellent for People Who Recognize Something MUST Change With Their Weight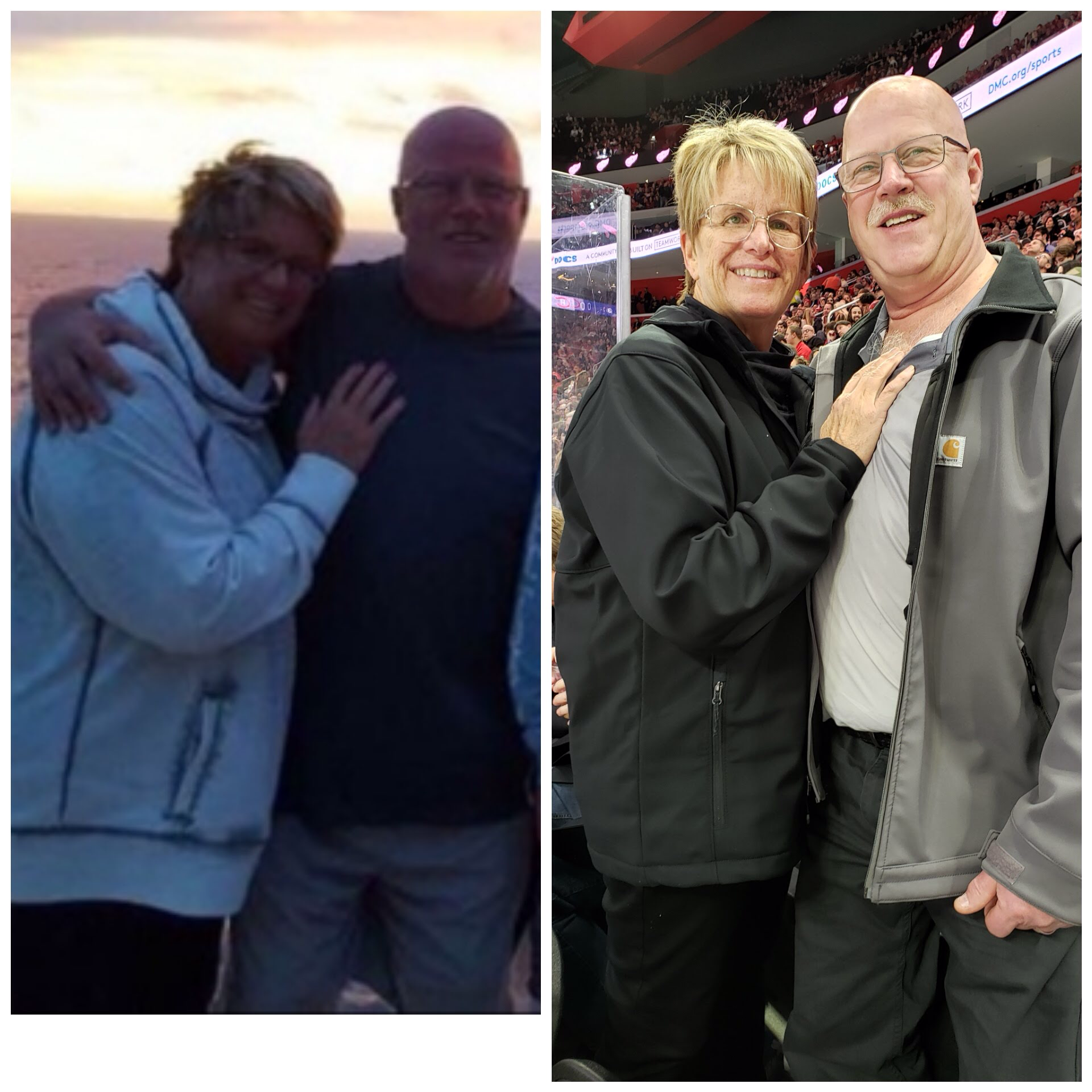 One of our amazing clients, Janie, who started in November 2019 and is now down 77 pounds as of Jun 2020!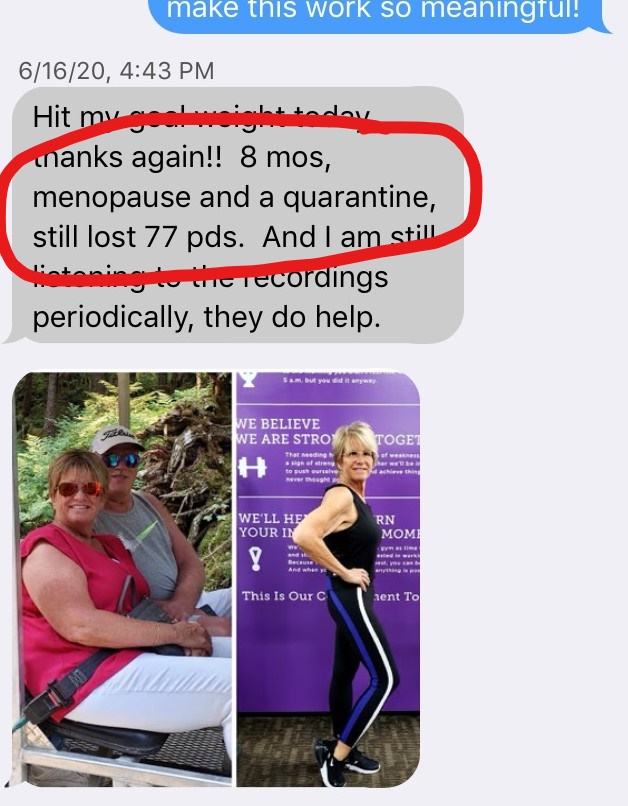 Call Us Today at

(248) 957-1636

for a Free, Confidential Phone Consultation
Watch Even MORE Successful Clients Share Their Weight Loss Stories Here
Our Detroit Michigan Weight loss hypnosis system is an excellent option for people who realize that something must change and that they MUST lose weight.
Weight loss hypnosis is the most popular issue that we deal with here at the Michigan Hypnosis Clinic.
A majority of our clients come to us by referral. For example, clients will come to us and ask us to "do what you did to my ______" (mom, dad, brother, friend.)
---
Listen to Just a Few of Our Clients in their Own Words*
*Disclaimer: individual results may vary

Apply for a Free Phone Consultation to Help with This Long Struggle With Your Weight Here.
---
The #1 reason for weight loss failure? Willpower…
Often, clients say to themselves, "I just need to use all the willpower I've got to finally drop this weight, etc.."
However, most people don't realize that willpower is a product of the conscious mind. The conscious mind likes to think that it's "driving the car" - when really our subconscious mind with all of our past experiences is what is really running our programming.
That's why willpower doesn't work. It's like thinking that using a powerful tool such as a battering ram to break down an obstacle is all that it takes to reach the gold on the other side.
The problem becomes when the obstacle (the negative conditioning from your subconscious mind) could be the size of the Great Wall of China!
As soon as you take away the negative patterns of your previous conditioning with food, you don't even need the "battering ram" to get to the other side.
You simply walk the open road!
Problems with Portion Control? Emotional Eating? Weight Loss Hypnosis is an excellent option...
Simply dieting and exercising is too simple of an approach.
When you use weight loss hypnosis, we teach you how to listen to your emotions so that you learn to control your emotions, rather than your emotions controlling you by turning to food, etc.
In addition to the weight loss hypnosis, you will learn self-hypnosis so that you can continue to reinforce continued success.
This will allow you to continue to make improvements in other areas of your life.
Dateline Showed What a Good Option it Is
Dateline TV of NBC several years ago did a special investigation and report about the various "fad diets" such as Atkins, South Beach, Weight Watchers, and then compared the results to someone working with a hypnotherapist for weight loss hypnosis.
Not only did the person using weight loss hypnosis lose more weight, but also felt better in the process, because they didn't feel deprived like so many diets.
Weight loss hypnosis here in the Oakland county suburbs is simply an excellent option for people that have struggled, often many, many years with too much weight.
Hopefully, this enlightening report that Dateline did on weight loss hypnosis will further educate and direct people to this amazing modality.
Weight Loss Hypnosis is an Excellent Option, But Only With The Right Hypnotherapist…
Here at the Michigan Hypnosis Clinic, we take a very unique approach to weight loss hypnosis.
Our approach to weight loss hypnosis differs from most other hypnotists with our use of "5-PATH" weight loss hypnosis, a specialized approach to weight loss hypnosis developed by award-winning hypnotist, educator, and author, Calvin Banyan, M.A, D.C.H.
Don't make the mistake of choosing the "cheap hypnotist" or the "guy from the '70's".
Unfortunately, many hypnotherapists either learned hypnosis 20-30 years ago, and are using outdated techniques, or trained with someone from that era.
This leads them to only do what is called direct suggestion, which means they simply do not know how to take care of underlying problem. We do.
Imagine you have a garden, if you weed your lawn with a lawnmower, then the weed will grow right back within time.
Our unique process is an excellent option for people who to take help with the root of the problem, not just addressing the symptom.
What The "Other Guys Do Wrong"
Most hypnotists will give a client suggestions for eating less, or for exercising more, but without removing the root cause of the problem, then "weeds" grow right back again, and the client is left feeling frustrated.
With our proprietary leading weight loss hypnosis system, Subconscious Reconditioning™, this root cause is examined and at the focus of our process.
To receive your free telephone consultation to answer any remaining questions about weight loss hypnosis, click here.
This is what you should expect from us
Our unique approach puts our successes light years ahead of most other hypnotherapists.*
Much more importantly, many clients report back feeling better about themselves, self esteem improves, and often, you'll simply feel like you're living a healthier lifestyle..
Most weight loss hypnosis programs are completed within 3-5 sessions.
You can read about some of our success stories and other testimonials on our site here.
Please take the time to look around our site and gather all the free information we provide here about hypnosis.
Our mission is to educate the general public about this wonderful modality that has been used by millions to empower themselves and change their lives.
Not only is hypnotherapy effective for weight loss, but also effective for hypnosis for smoking, to combat stress, eliminate bad habits, and many more issues.
To read about many of the common misconceptions and the whole truth about what hypnosis is, click here.
Call our office for more information about this total approach to weight loss.
If you have any questions about weight loss hypnosis or our services please feel confident that we are more happy to answer your questions. Contact us today to set a plan for your success.
* Important Disclaimer: While hypnotherapy is a powerful tool to accomplish change, it is not a "magic wand." It DOES take some conscious commitment and effort on the client's part. While we have an excellent track record and 12+ years of amazing results for our clients, every person's results may vary. Hypnosis is a partnership, and your results will depend in part on YOUR level of participation and effort. We can't "make you" do anything. But if you are ready to make powerful changes in your life, this is a powerful tool to help you in your journey. Contact us today to learn more.